Beat job interview nerves with these presentation tips

Welcome to the CCE blog
News & opinion_
Beat job interview nerves with these presentation tips

By Stephanie Oley
Making the right impression during a job interview is tough for any jobseeker. Of course, this becomes a little easier with practice. So if you're among the one in five Australian professionals1who changed jobs in 2021,perhaps you're all up to speed. But if you're among the 25 per cent who have held the same job for more than 10 years, and you haven't interviewed in a while, then read on.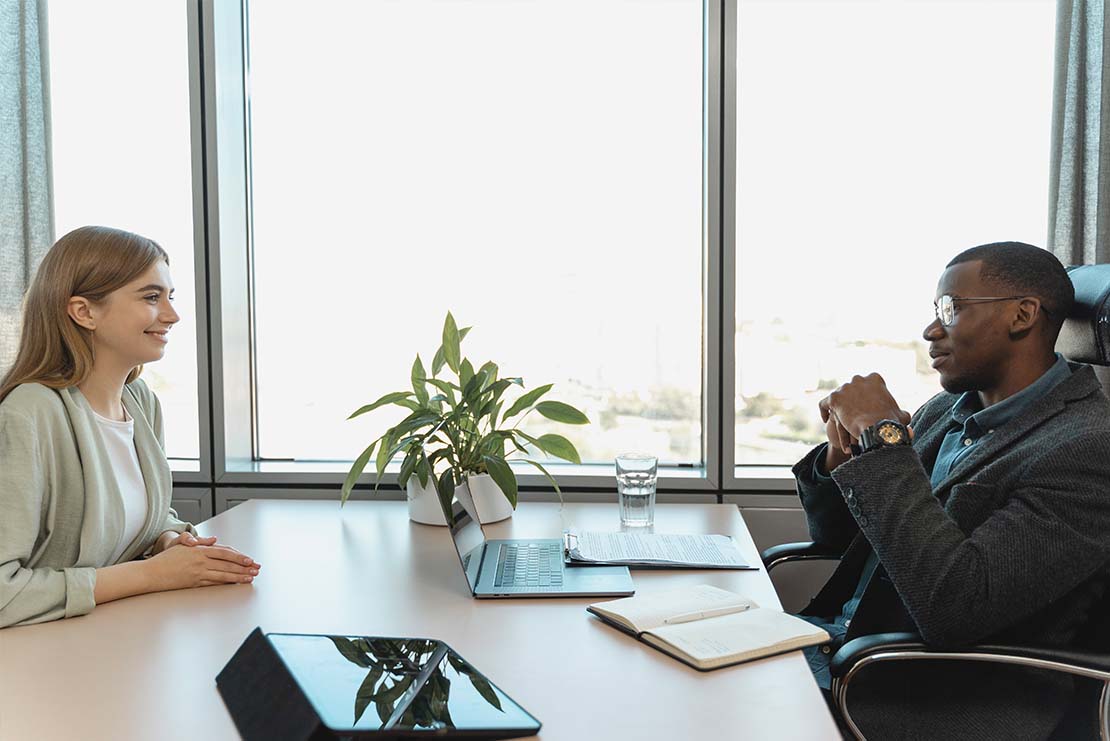 Interview techniques have been a recurring theme lately at CCE's presentations workshops with Michael Kelly. And rightly so, in a shape-shifting economy like the present one, withmore people hunting for a new role.
According to various sources, interviewers make a decision to hire within the first 75 seconds of the interview. Even on Zoom, split-second impressions can convey your warmth, acceptance, calm and other desirable attributes. So evenif you're the perfect candidate, your interviewer may not realise this unless your presentation is convincing.
Interview basics that everyone should know
To digress for a moment, several timeless rules of interviewing still stand. For example, do as much homework as you can. Before the interview, read everything you can about the company and its products. Follow them on LinkedIn search online for news; prepare some thoughts on their point of difference; read about their key people.
Next, read the job description thoroughly and know your own selling-points. Prepare anecdotes on how you've made a difference in previous roles, making sure to memorise as much quantifiable data as you can. For example, the percentage of time saved, engagement achieved or customer satisfaction rates boosted thanks to your input. If your role generated sales, improved budgets, won repeat business or impacted other financial areas of the business, you'll have even more exciting numbers to discuss.
If you really can't find any data-backed evidence to demonstrate your skills, look for strong non-quantifiable points instead. For example, 'I am X in nature so I can deliver Y'. You get the idea.
Presentation hacks for your next interview
Learning to listen and speak under pressure is a skill that can be learned, and you can start by practicing these at everyday social functions. Here are a few useful tactics tomaster ahead of your next job interview.
Adopt a confident posture – Sit with your arms on the table, head held high and no limbs crossed. Hold this gesture for a moment or two, to ensure you're not fidgeting. Reinforce any important points by pressing together your index finger and thumb, as if holding a paperclip. Practice ahead of time, so you feel natural on the day.
Speak in a clear, measured style – Being nervous can cause you to either rush or mumble. Make sure to open your mouth a little wider, to project your voice, and speak a little more slowly. If you listen to any speech by Barack Obama, you'd be surprised at how slowly he speaks. Far from simplifying his messages, it keeps his audiences riveted. Before the interview, try audio-recording your voice a few times to get used to a slower pace and to the way your voice projects.
Don't overdo (or underdo) your first response – As mentioned, the most important impressions are made within 75 seconds. That's equal to around one quality response. However, many interviewees speak either too little or too much here. A useful technique to try is the paired-sentence response, where an opening and a closing sentence combine to make one high-level point. For example, talk about an industry issue followed by your great insights. Share a common problem followed by your solution. Raise some big questions followed by your valuable answers.
Structure your other responses – To prevent rambling, try to guide the shape of your other responses, too. For example, 'There are two things I would do in that instance', or 'These are the three reasons I believe you should hire me.' If you don't know an answer, admit it. For example, say, 'I haven't really thought about that before.' Or probe the interviewer's question, to see if it leads to something you have a response to. An interview isn't a knowledge exam – it's an opportunity for a firm to get to know you. It's OK to steer the conversation a little yourself, to demonstrate what you're best at.
Be a little honest – Some job candidates twist their responses to curveball questions such as, 'describe your weaker attributes'. For example, they might say their worst attribute is how hard they work, or the high standards they hold. Instead, acknowledge any weaknesses, for example with technology or managing pressure, while making sure to describe how you manage these issues.
Seek to end on a high note – CCE's presentation facilitator shared the story of a friend who unsuccessfully attended close to 100 interviews, before changing one tactic. This was to simply ask the interviewee what it was about his CV that prompted them to invite him in. His question resulted in the interviewer listing all the attributes they liked about him, and ended the interview on a high note. He also won the job.
Economic cycles change fast, and sometimes even the most likely predictions don't pan out as expected. But one thing you can always count on is your own ability to state your case, sell your ideas or put your best foot forward. Don't leave it to chance. Good presentation skills can be learned, and be turned into a lifelong career asset.
---
1 From https://www.abs.gov.au/statistics/labour/jobs/job-mobility/latest-release
More articles